K
allavesi Senior High School is an educational establishment that respects human values and aims at improving the skills of its students by supporting and guiding them in a balanced way. In addition to striving for the academic objectives, the central task is to prepare students for the demands of the future in a safe and modern learning environment. Independence and co-operation skills are emphasized. Students are also given responsibility and freedom to create highly individual study programmes.
Kallavesi Senior High School has its roots in the first girls' school founded in northern Savo in 1879. The school has been in its present location in the centre of Kuopio since 1924 and today the school is attended by both male and female students. There are about 35 teachers and 600 students working in the same premises.
Co-operation both at national and international level has always been of high importance for the school. As a forerunner in co-operation between the local vocational, catering, design and health and nursing schools Kallavesi Senior High School provides ample opportunities to choose courses from a wide range of subjects.
Kallavesi Senior High School has been a UNESCO-school since 1984 and it is possible to take courses in international studies and take part in visits to collaborating schools, for example in Germany. Needless to say, some students also act as hosts to international guests every year as visits from abroad are part of the school routine.
Our students have a chance to take courses in International Business. There is a wide selection of national on-line courses available, with a teacher tutoring the studies. We also offer several courses of our own to complement our students' International Business studies. As a HundrED school we are part of a network of upper secondary schools oriented in International Business.
Various specialized programmes can be established for different educational purposes ranging from computer studies to the arts. Being also media-oriented, the school naturally offers a great many courses in media studies such as The World of the Media, Radio and Television Journalism and Videography.
Sustainable development and environmental isuues are cosidered important in our everyday activities. Kallavesi Senior High School was awarded the Sustainable Development Certificate by the OKKA Foundation in 2013.
 
 Non-graded curriculum
The national non-graded curriculum gives students a possibility to make personal choices in their timetable. The study time can vary from 2 to 4 years. Due to the individual choices there are no study groups of students that would stay together taking exactly the same courses throughout the high school years. Each student attends various classes according to the timetable they have chosen.
Five periods
The school year is divided into five periods, each of which takes about 38 days. When planning the study programme, the students are given a menu of courses covering the whole schoolyear and usually 5 to 6 different courses per period are chosen. The courses for each period are taught according to the weekday schedule, and there are three 75-minute lessons a week per course.
Test week
At the end of every period there is a test week, which takes seven school days. In case a student fails any test, they are given one chance to retake the test during the next period of the schoolyear.
Specialization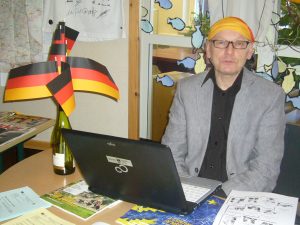 Kallavesi Secondary High School specializes in the following:
International Activities: We are one of the international UNESCO schools. Besides, we have a partner schools in Germany (Hildesheim) and Italy (Desenzano del Garda). Students can choose two courses in International studies, either take part in a visit to one of our partner schools and host visitors from there at home, or participate in some project (Erasmus+, Nordplus Junior).
Media Studies: You can choose 1-15 media courses during your studies. The local media, both the press and the radio and TV stations, are involved in some of the courses. In addition, you can take one media course in English.
Arts and Design: There are several courses available which contain a variety of arts and design, for example, pottery, or interior design.
Post-16 Educational Cooperation: Kallavesi Secondary High School co-operates with Kuopio university and the local vocational college, health and nursing college, and also with the art and design school.